North Coast Rep's current production, "Amadeus" now on stage through Oct. 6th, is in excellent shape right out of the chute. It's near perfect. Richard Baird's direction is exquisite and flawless. Tony Amendola's Salieri is mesmerizing. Rafael Goldstein's mercurial Mozart is brilliant and Elisa Benzoni's costumes are out of this world. There's nothing shabby about the rest of the cast or production either. It's a must see show.
Tony Amendola and Katherine Tkel
Playwright Sir Peter Schaffer ("Equus", "Lettice and Lovage") presented "Amadeus" to the Royal National Theatre in 1979. It premiered on Broadway in 1980, was revived again in 1999. In 2003 he changed it again for a Broadway return and as before it garnered multiple awards.
Cast of "Amadeus"
The play inspired by a short play by Alexander Pushkin called "Mozart and Salieri"
is mostly fiction, but the music that shakes the foundations of the North Coast Repertory Theatre with excerpts of his operas is absolutely beautiful. "Amadeus" is a memory play told in retrospect by an old and decrepit Salieri as he prepares to meet his maker.
Tony Amendola and Rafael G







Antonio Salieri Italian composer and Kapellmeister of the Italian Opera in 18th century Vienna was the master behind the scenes controlling the fate of the very young, mercurial child prodigy Wolfgang Amadeus Mozart. Young Mozart was a spoiled, ill-mannered whiz kid. He knew no boundaries when it came to offending those who could most help him. It was also a time where social graces mattered and talent was a political football. The larger than life Salieri took full advantage of the situation as he saw it coming.
Salieri is both the subject and the object of Schaffer's play even though the title suggests otherwise. For this overstuffed over confident, over postured master, it was a case of mediocrity vs. genius. As soon as he heard some of Mozart's early works Salieri goal was to stop him at every turn. It was the beginning of the end for this beautiful young wunderkind who suffered unnecessarily under the guise of a 'helpful patron'.
Cast of "Amadeus"
The tale surrounding the back -story about Mozart's death has been kept alive with the charges in Rimsky-Korsakov's opera "Mozart and Salieri" in which Salieri portrays the villain who poisoned Mozart. That tale, it is suggested is based pretty much on fiction. The facts still remain that Mozart died a pauper's death, cold, sick and unable to function; kidney failure at age 35 was the 'official' reason in Schaffer's account. He was writing the "Requiem" for himself, as the story goes, predicting his imminent death.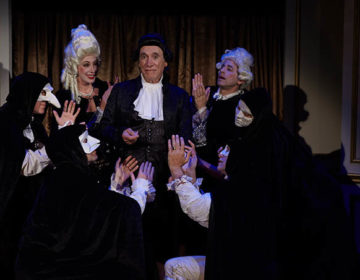 (back row( Alice Sherman, Tont Amendola, Christopher Williams,
Salieri failed to or wouldn't influence Austrian Emperor Joseph II, (Louis Lotorto) in Mozart's favor to hold a court position that would have gained him favor, recognition and fame. This was the beginning of Mozart's downward spiral.
Anything Mozart did to better his standing in the Court was thwarted with a vengeance. Mozart, oblivious to it all, kept coming back to his mentor with ideas and new opera's that go nowhere as the schemes to ruin his success thicken.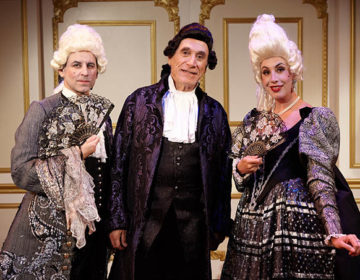 Christopher Williams, Tony Amendila, Alice Sherman
Frustrated, Mozart knew his ability's were far and above those of Salieri's but could never get enough friction to move any of them forward. With each new piece Mozart had, Salieri had to be one step ahead of him embarrassing him at each turn, or if any of them succeeded, he took credit. Knowing how much more gifted Mozart was, the plot spins and thickens pinning Salieri against himself. Salieri in his all too pious ways pleads with God often, but to no avail. He challenges God to punish him and in the end, it's Mozart we remember, not Salieri. Perhaps that was punishment enough.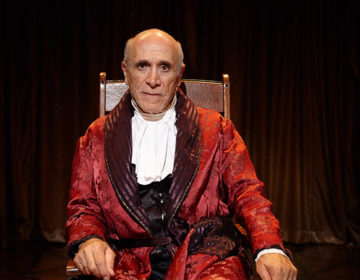 Tony Amendola
As mentioned earlier Amendola gives a commanding and Bravisimo performance. It's award winning. He is both narrator and player, changing roles effortlessly, breaking the fourth wall and turning on a dime getting back in character.
Goldstein's Mozart plays the part of the overly active, undisciplined and obnoxious man/child when we first meet up with him chasing his future wife, Constanze (Kathryn Tkel) around Salieri's lounge like an animal on all fours. His later maturing, finds him more serious but still childlike in nature and when he finally knows something's amiss, he's too far gone to climb out of his abyss.
Later on in the game Constanze, more mature now, is willing to do anything for her now husband, including sleeping with Salieri while the though of it has her holding her nose. With youth on her side, Tkel is just perfect as the mate for Mozart; playful yet so much more grounded than her still childish husband.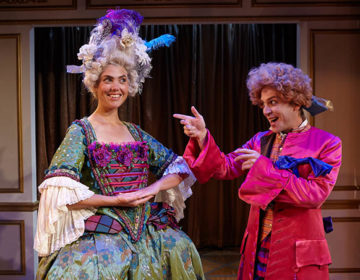 Leigh Ellen Akin and Rafael Goldstein
With the play firmly established under Baird's direction and with excellent use of striking tableau's at the beginning of each change in posture, the heartbeat of Schaffer's play, one might say, is in listening to excerpts from Mozart's opera's that are woven into the story. It brings to mind just how much genius Mozart did posses. Imagine "The Abduction from the Seraglio", "The Marriage of Figaro", "Don Giovanni", "Cosi fan Tutte", "The Magic Flute" all under one roof.
Supporting characters, Count Franz –Orsini –Rosenberg (Andrew Oswald), Count Johann Kilian Strack (Nick Kennedy), Baron Gottfried Van Swieten (Andrew Barnicle), Venticelli/1 and 2 (Christopher Williams and Alice Sherman) all contribute to this near perfect, but wordy production.
Matt Novotny's lighting design enhances Marty Burnett's set and Aaron Rumley's sound shook the house with every one of Mozart's notes.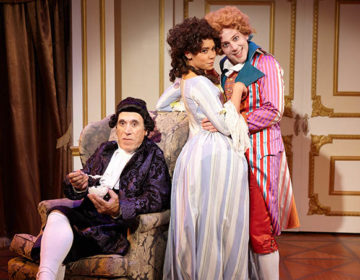 Tony Amendola, Katherine Tkel and Raphael Goldstein
As a side note, and in a delicious indulgence, watching Amendola's Salieri savor dishes of cool whip as he watches, in several instances, unnoticed and off to the side in a wing backed chair, coveting and satisfying his sweet tooth. It's all in the details, and if you look, they are all there. It whet my appetite for something sweet.

I jus couldn't resist that little tidbit.
Organization: North Coast Repertory
Where: 987 Lomas Santa Fe Drive, Suite D, Solana Beach, CA
Ticket Prices: Start at $55.00